German Cockroach numbers set to explode this summer in the Sutherland Shire!
During this summer there will be more babies born to 175 Sydney mothers, than the entire population of people in Australia which grew from 859 in the year 1788 to over 21 Million by the end of 2007 (Source: 3105.0.65.001 Australian Historical Population Statistics, 2008).
I am referring to the multiplication of 175 german cockroach mothers, who if kept un-checked and well fed, could explode to over 21 million in a matter of 3 – 4 months during summer.
When our human population grows, so does the cockroach population.  Our cities have the highest population growth for people, and therefore provide ample food, water and shelter for more pests.  Add to this warm weather conditions and we have the perfect conditions for a population explosion.
Cockroach Breeding Cycle
The most common species of cockroach found to infest buildings is known as the German Cockroach (Blattella germanica).
It is the most prolific breeder, taking as little as 40 days to fully develop from hatching to adult.  An adult female will lay 300 to 400 eggs within a 6 month period.  So a couple of cockroaches left untreated in your home or business now, can turn into well over 250,000 cockroaches in 3 months!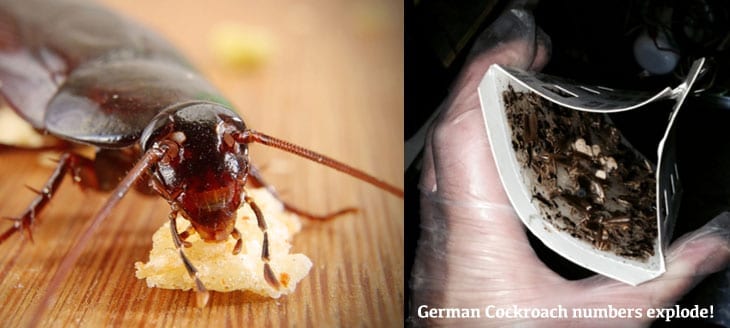 Don't Delay
Act now, to ensure you don't add to the population explosion.  Don't wait till you see more cockroaches, as you will only be seeing the tip of the iceberg.  Cockroaches hide in small cracks and crevices throughout buildings, and are essentially nocturnal (most active at night).  If you see cockroaches active during the day, it usually means there are many more that you cannot see.
Servicing Your Needs Safely
The insecticides we use are very safe to humans and the environment, but are deadly to cockroaches.  They have both an immediate and residual (longer lasting) effect when applied in the right areas.  Call us now on 1300 858 140 for an obligation free quote, and to book in a time for us to service your needs.
Cockroach Management Tips
Effective management of pest cockroaches in and around the home relies on:
A comprehensive inspection/survey of the home. Sightings of pest or their faeces are a sure sign the problem is already building.
A high standard of sanitation and hygiene, which will reduce the food, water and shelter that facilitate population growth.
Don't keep cardboard boxes that have stored food, inside your house from the shops.  They are a source of cockroaches being introduced into the home.
Seal gaps around doors, windows, walls, and make sure insect screens are in good condition.
Regularly empty your rubbish bin from inside to an outside bin.  Make sure your bins have lids and are not allowed to overflow.
The application of insecticides in a manner that makes their likely contact with target insects
Follow-up inspections and ongoing monitoring
Don't wait till summer, prevention is better than cure.
If you think you might have a Fruit Fly infestation in your home you can contact Knockout Pest Control by Rentokil for a pest inspection. You can call our service team on 1300 858 140. or you can send us an email by using the Contact Form by clicking here >